Todd Alsup | Paula Valstein | Shayna Zaid | The Royce Brothers
Wes Hutchinson | Alec Gross | The Orion Experience | Atomic Tom | Mat Brandon
Click here to view complete client list.
Todd Alsup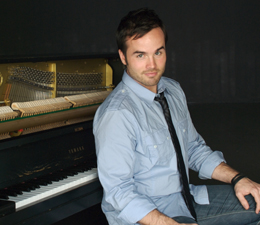 Singer/Songwriter/Pianist Todd Alsup is a welcome throwback to classic songwriting and showmanship - an exciting artist who can consistently rock a crowd with astonishing vocals and honest songs bursting with groove and personality.

Born and raised in the suburbs of Detroit, Todd was attracted to the classic sounds of 60's soul and 70's pop at an early age. "I remember discovering my parents' record collection - The Beatles, Carole King, Stevie Wonder and Billy Joel," he says. "I spent hours and hours wearing down their vinyl, simply captivated. I fell in love with artists like Marvin Gaye and Aretha Franklin who could deliver a melody and lyric like no one else. Storytellers and soul singers - those were my idols."

Todd has been featured in Billboard Magazine, Performing Songwriter, and is endorsed by Yamaha. He is managed by MajorWho Media and is currently working on a full length album.
---
Paula Valstein has a story to tell and combined with some of New York City's most talented musicians, this story can be heard in a way so unique that any listener can relate and understand.
Raised in Tel-Aviv, Paula discovered her Grandmothers Piano at the age of four. At age six Paula fell in love while composing songs taken from her mother's poetry. With the fire it ignited the drive and passion followed suit and she enrolled in the most prestigious music school Israel has to offer. Just four years later, she would play her first concert to an audience exceeding one hundred eager listeners. At fifteen with the piano mastered and the creativity blossoming, she took her love for Classical music and cross pollinated it with the world of song-writing. Combining her passion for both genres, Paula started to discover a voice of her own. Music became an outlet for Paula to voice the turmoil surrounding her in the beautiful landscapes of the Middle East. After making a name for herself in Israel, Paula came to New York to conquer the world. It didn't take long for the sophisticated listeners and respected musicians of the city to love and respect the talents of this beautiful Songstress. Paula became a regular in all of the intimate rooms of New York. Fans line the blocks to hear her sold out shows at such venues as ROCKWOOD MUSIC HALL, THE BITTER END and JOE'S PUB. Audience members leave with an overwhelming sense of fulfillment as Paula reaches out with her words and energy to touch the souls of each individual listener. With Paula Valstein comes a breath of fresh air. Her music is so honest and telling it compels the listener to share their own stories through any outlet available. It is not everyday that we come across a talent so exceptional and unique as Paula Valstein.
---
Currently based in New York City, but raised in the cornfields of Bucks County, Pennsylvania, Alec Gross has been touring the basements, bars, clubs, concert halls, and open spaces of these United States for the past few years, composing, performing, and recording albums of original songs along the way.

His most recent work has shown a growing focus on identifying and utilizing those elements of popular music, which are both ageless and immediate. His fluency in folk and traditional idioms, as well pop music styles, is unmistakable as he injects contemporary themes, storylines, and sensibilities into honest and timeless melodies and song structures.
Having been featured nationally on television and radio, and bolstered by his rabid touring schedule, Alec's audience continues to grow, attracting devoted music fans hungry for an honest and original voice.
---
"The song is named 'Obsessed with You' and we're obsessed with it," writes celebrity blogger Perez Hilton when describing his newfound attachment to The Orion Experience. Not an uncommon sentiment felt by those who have crossed their path, danced to their beats, and screamed out their words.

Front-man Orion Simprini has been diligent and precise in the quest to bring his ideas and music to the world. In 2005, the journey began with the collaboration of longtime friend and schoolmate Linda Horwatt, whom Orion shares vocal duties, harmonies, hand claps and smiles. The two spent several years, on both coasts, honing their craft, recording music and formulating a vision. And with the recent additions of guitarist Reef, drummer Jon Weber and bassist Chris Lucas, that vision has been fully realized.

"What we try to create," Orion says, "are very positive, high energy musical experiences." And with their debut, Cosmicandy (2007), the band delivers exactly that. "The songs from Cosmicandy really drove us to where we are today," explains Orion. The rock quintet boasts a collection musical resumes that aim to revive a bit of the past, and paint a smile on the face of the future.

The Orion Experience recently completed a Japanese single with MajorWho for their record's release on the Japanese label Power Pop Academy.
---
The harmony and vocal blends of brothers Justin and Jordan Royce is one that can only come from twins. There's something in the air that creates an atmosphere so unexpected they don't really even know it's happening, but they certainly know when they are inspired.

The Royce Brothers began playing music at the age of thirteen in their Long Island home. Finding their rhythm at an early age, with Justin on guitar and Jordan on bass, they created a sound to make even the heaviest foot tap repeatedly - sometimes even the simplest lyrics can strike your heart and put a smile on your face.

The Royce Brothers' sound and songs are influenced by the great songwriters of the 60's and 70's like the Bee Gees, the Beatles, the Beach Boys and the Everly Brothers, with a very special love for ABBA. Aside from writing songs, they enjoy spending time with family, friends and pastries, ping pong, reading, dancing and Disney movies.

The Royce Brothers are currently recording their first EP with Major Who Media. A Fall 2009 release is expected.
---
Shayna Zaid's unique vibe and signature sound encompasses many culturally diverse influences stemming from her childhood in Malaysia to her coming of age in the United States. Shayna's soulful voice is unmistakable; powerful yet tender, strong yet sweet, and mature beyond her years. Combining very catchy hooks, heavily textured background vocals, clever lyrics, and beat driven music, Shayna's music can compete with anything on radio today. Charisma and personality pour out of Shayna and her music, making it remarkably commercial, yet authentic and unique.
With the release of 'Half A World Away' and her current (work in progress) 2007 EP project under her belt, Shayna is hoping to gain the support of her home country and is determined to make her mark and climb up the International radio charts someday soon.
Shayna delivers an amazing and dynamic live show that displays her captivating power and personality, her exotic beauty, and her incredible musical prowess. Shayna Zaid is positioning herself as a new force in the music world that is sure to be enrapturing.
---
It's hard to find an artist that penetrates today's music with an undeniable timeless quality in voice and authenticity like Wes Hutchinson. His songs are saturated with melody, heart felt lyrics, and music that bridges pop & rock sensibility.
Influenced by soul, timeless folk, and unforgettable rock records, Wes issues a sound that is deep rooted and real. Since moving to New York City a year and a half ago, Wes has enjoyed success as an unsigned artist. Wes was named grand prizewinner of the BMI-sponsored Rock Boat Song Contest in 2004, which lead to an opening slot for Shawn Mullins. He also had the opportunity to play a private industry showcase for Billboard Magazine at the prestigious Core Club in Midtown Manhattan, which landed him in Billboard magazine on the 'Backbeat' page. "Things we need the most" was the featured song in MTV's hit series Laguna Beach. Other songs of Wes' have been featured on TV shows and DVD compilations such as Boston Public, Rozwell, Party of Five DVD, The Young and the Restless and the Season 2 Laguna Beach DVD.
---
Bringing it with a mini-three-hook symphony of flashy, yet dirty goodness... And leaving room for the anthemic soaring Luke White vocals... Ben Romans, The Click 5
From the studio to the stage, everything is spinning around three themes: love, sex, and madness. Atomic Tom pulls from previous decades' sounds like The Cure and The Smiths, and mixes those with modern day pop rockers like The Dandy Warhols and The Killers. The lyrics revolve around personal experiences, jealous overtones ("Maybe I'm Wrong") and obsessive behavior ("Secret Fascination").
Atomic Tom is known for red-hot shows and brash, sexy pop singles. Their "deep and melodic" sound and "thick vocal style" have been praised by MTV. The band hails from LA, DC and NYC. They recorded an EP in 2006 and released the single "You Always Get What You Want" in May 2007, a song which was featured on MTV's hit show, "The Hills" in Spring 2008.
---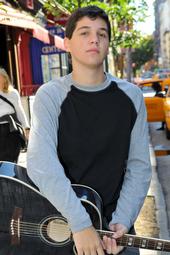 Mat Brandon found a genuine passion for music at eight years old when he started playing piano. He picked up the guitar shortly thereafter and by thirteen he started singing and writing his own songs. Even at a very young age, Mat easily finds inspiration in what life hands him. Mat combines a rock/pop sound with his youthful outlook on life...his reality.
Mat's young age and lyrical attack draws the youth of today to play and replay his songs with great enthusiasm. With such a positive response, he was eager to get into the studio. Mat joined forces with MajorWho Media in 2009 to begin recording a four song EP. Though Mat plays locally as a solo artist, he is currently putting together a full band with hopes of playing in NYC this summer.